TOMIOKA SILK MILL VISIT BY STUDENTS FROM WORLD HERITAGE STUDIES
Tomioka Silk Mill is a UNESCO World Heritage Site registered in 2014 under UNESCO criteria (ii) and (iv). The extent of the plant, from its initial design, and the deliberate adoption of the best Western techniques illustrate a decisive period for the spread of industrial methods to Japan and the Far East. Its large, late 19th century buildings provide an eminent example of the emergence of a style of industrial architecture specific to Japan, combining foreign and local elements.  Tomioka Silk Mill was built in 1872 as Japan's first government-operated model silk-reeling factory. The Tomioka Silk Milk is one of the indicators of revolution in technology as well as economic activities (trade) and politics (foreign policy) in Japan.
On the 18th of August 2020, students from World Heritage Studies took part in the field exercise for the Conservation Science course at Tomioka Silk Mill – Gunma Prefecture. With the help of Professor Toshiya Matsui (course teacher) and Professor Nobu Kuroda, students learned about conservation practice in tangible and intangible aspects of Tomioka Silk Mill such as architectural preservation and restoration, the environment control within the interior and the exterior of the building, and the preservation of knowledge that is one important aspect of heritage that influences the change in the sericulture and the silk industry.  Also learned were some of the strategies used for monitoring and controlling humidity and light in order to preserve the site. Students also learned about the deteriorations that are happening within the building and the surrounding areas and some of the approach that was taken to address deteriorations such as the high moisture content on the bricks and some restoration works that is on-going.
The students visited the sericulture breeding site as well as having the chance to see and touch the real silk cocoons and listened to some explanations about how the sericulture operates. Basically, the idea of visiting the sericultural activities and breeding methods helps the students to understand the importance of the efforts that were put into the industry and the challenges that come with it. Knowing the challenges can be helpful in finding the solutions in maintaining the Tomioka World Heritage Site.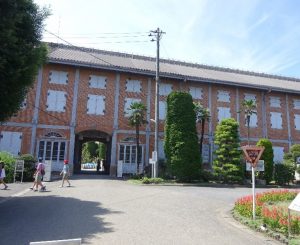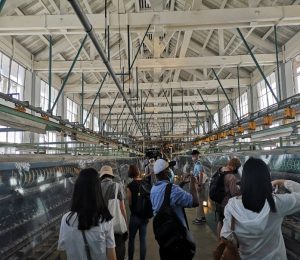 Photo (left) : Tomioka East Cacoon Warehouse.
Photo (right) : Students visiting the automatic reeling machine preserved inside the reeling factory.

[Written by Jethro, Matsui-lab]